Chhath Puja | छठ पूजा | Chhath Puja 2020 Date | Happy Chhath Puja Image | chhath Puja Wishes | Chhath Puja | Chhath Puja 2020 Date | Chhath Puja Image | chhath Puja Wishes | Chhath Puja | Chhath Puja 2020 Date | Chhath Puja Image | chhath Puja Wishes.
Chhath Puja 2020 Date – छठ पूजा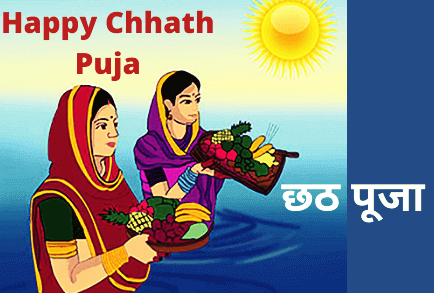 As we all know India is known as a festival country where people celebrate different types of festivals according to their caste and region in India. So, Chhath puja also one of them. Like Navratri, Durga Puja, Chhath Puja is also a major festival of Hindus, dedicated to Lord Sun and Chhathi Maiya. This festival is mainly celebrated in the Bihar state, Jharkhand, and UP. And at the regional level, there is a different enthusiasm for this festival in Bihar.
According to mythological beliefs, Chhath is the sister of the Sun God. It is believed that by performing Suryopasana in the Chhath festival, Chhath Mai is pleased and gives happiness in the family with peace and wealth. Chhath puja is also called Chhathi, Chhath Parv, Dala, Chhath Dala Puja, and Surya Shashthi. During this festival women of the house observe fast and pray for the wellbeing of their children and family.
Almost every resident of the Bihar state celebrates this festival two times in a year. The first one is Chaiti Chhath (चैती छठ) and the second one is Kartik Chhath (कार्तिक छठ). So, every year the date of date of chhath Puja changes. And this year the date of chhath puja 2020 date will be celebrated 6 days after Diwali on sukhla paksha sasthi of Kartik month. So, here we are sharing the important dates of chhath puja 2020.
Also Check:
Happy Chhath Puja 2020 Date – छठ पूजा पर्व तिथि व मुहूर्त
Chhath Puja Day 1: Nahay-Khay: Wednesday – 18 November 2020
Chhath Puja Day 2: Lohanda and Kharna – Thursday, 19 November 2020
Chhath Puja Day 3: Sandhya Arghya – Friday, 20 November 2020
Chhath Puja Day 4: Usha Argh and Paran – Saturday, 21 November 2020
Four Days of Chhath Puja – छठ पूजा के चार दिन
नहाय खाय | Nahai Khay -The first day
Even though the festival of Chhath Puja is celebrated on Kartik Shukla Shashthi, it starts with Nahay Khay on Kartik Shukla Chaturthi. It is believed that on this day, fasting, bathing etc., wears new clothes and takes vegetarian food. The rest of the household members eat only after the fasting meal.
खरना | Kharna – The second day
Kartik Shukla Panchami is kept fast throughout the day and in the evening, fasting is taken. This is called kharna. On this day, fasting is done without consuming food and water. In the evening, kheer is prepared from rice and jaggery. Salt and sugar are not used. Rice bread and ghee roti are also distributed as khai prasad.
शंध्या अर्घ्य | Shashthi – The third day
Prasad of Chhath Puja is made on the day of Shashthi. Thekua is special in this. In some places it is also called Tikri. Rice Laddus are also made. Prasad and fruits are decorated in bamboo baskets. By worshiping the basket, all the vratis go to the pond, river or ghat etc. to offer arghya to the Sun. Bathing is done to worship the setting sun.
The last day of Chhath Pooja
The process of sunset worship is repeated on the next day i.e. Saptami, even at sunrise in the morning. Chhath Puja is done by duly worshiping and distributing prasad.
Happy Chhath Puja Vidhi
● 3 large bamboo baskets, 3 soop made of bamboo or brass, plate, milk and glass
● Rice, red vermilion, lamp, coconut, turmeric, sugarcane, suthani, vegetable and sweet potato
● Pear, big lemons, honey, paan, whole herd, caravans, camphor, sandalwood and dessert
● As prasad, take thekua, malpua, kheer-puri, semolina pudding, rice ladoos.