Rajasthan E Bhamashah Card Download | Rajasthan Bhamashah Card Scheme | Bhamashah Yojana Rajasthan | Bhamashah Card status | Download Rajasthan E Bhamashah Card | Rajasthan Bhamashah Card Scheme Online Registration | Bhamashah Card Scheme Rajasthan Application | Bhamashah Card Apply Online | राजस्थान भामाशाह कार्ड योजना | bhamashah.rajasthan.gov.in.
Rajasthan E Bhamashah Card | राजस्थान भामाशाह कार्ड
The Rajasthan Bhamashah Card was launched by the Chief Minister on 15 August 2014 to empower the women of the state and to benefit from government schemes. Bhamashah cards have been issued to the women of the state as the woman of the family has been declared as the head.
For any woman who wants to apply for the Bhamashah card, it is mandatory to have a bank account so that the bank account can be linked with Aadhaar and Bhamashah. So in this article, we are going to provide you complete information about Bhamashah Card like Rajasthan E Bhamashah Card Download, the application process, documents, eligibility, etc.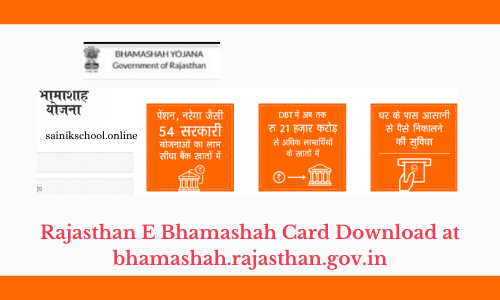 Rajasthan Bhamashah Card Scheme
Rajasthan Bhamashah Card Scheme is a direct benefit scheme under which a Bhamashah account and bank account is opened in the name of the head woman of the family so that the money of the scheme is sent directly to the woman's bank account. If a woman wants to open a joint bank account with her husband or family member.
It is mandatory for the Bhamashah card to be linked to the Aadhaar card and bank account of the woman so that whatever government scheme the Rajasthan government runs, its money comes in the Bhamashah account. Enrollment in Bhamashah would not be possible without the head woman's bank account.
For this scheme, a woman of 21 years and above can be declared as the head of the family and can get cash and non-cash benefits from government schemes run by the government without any hassle. People of Rajasthan are getting the benefit of more than fifty government schemes with the help of Rajasthan E Bhamashah Card.
Also Check:
Rajasthan E Bhamashah Card Overview
| | |
| --- | --- |
| Card Name | Bhamashah Card |
| Card Type | Digital Identity Card |
| Founder | Rajasthan Governmen |
| Download Process | From SSO Rajasthan |
| Website | Click Here |
| Card format | pdf |
Objectives of Rajasthan Bhamashah Card Yojana
The main objective of Rajasthan Bhamashah Card Scheme 2020 is to prove cash and non-cash benefits to women through Bhamashah Card from government schemes.
Empowering women and making them financially independent.
To remove financial problems in the lives of women.
Bring transparency in the benefits to the beneficiaries.
Benefits of E Bhamashah Card Yojana
Benefit for every family of the state.
Increases women empowerment and self-reliance Direct transfer of cash to beneficiary's bank account.
Benefits of more than fifty government schemes
Getting information about any transaction in the account through SMS.
Cash deposit and withdrawal facility to the resident.
Benefits of schemes in the form of social security pension, scholarship scheme, NREGA payment.
Eligibility
Every family in the state is eligible for this scheme.
A woman in the family should have a Bhamashah card and bank account.
Only the woman will have the right to the amount in the bank account.
Important Documents
Voter ID
Aadhar Card
Ration Card
Pan Card
Water bills, electricity bills, telephone bills
Passport size photo
Bank account statement
Mobile number
How to Apply Online for Bhamashah Card Online?
First of all, visit to Bhamashah Enrollment page.
Now click on the link i.e. "Bhamashah Citizen Registration"
Next, fill all the required information in the new page correctly.
Now, click on "Submit" option and you will be allotted a registration number.
With this registration number, you can do the Bhamashah Enrollment.
You can see the link to enroll under the registration number which you need to click.
After clicking on it, enter the registration number in the new page and click search.
Now the Bhamashah Citizen Enrollment Form will open.
In this page, you must first give information about the head of the family and then add the member.
After filling in the correct information of the head and family, file a nomination.
Now you will get Bhamashah Receipt Number which you should keep.
Now, enter your Bhamashah receipt number to upload the required documents in your enrollment application.
Check E Bhamashah Card Status Online
To Check E Bhamashah Card Status Online, you need Bhamashah Receipt Number or Family Identification Number.
Choose either Bhamashah Receipt Number or family identification number.
Now, enter the number in required field.
Now you can see Bhamashah Card Status by clicking on the search link.
How to Download E Bhamashah Card using SSO ID?
To download E Bhamashah Card using SSO ID, you have a registered mobile number of Bhamashah slip for any registered family member.
Visit sso rajasthan login page of Rajasthan government.
There you need SSOID or Digital Identity Number.
Enter your SSOID number and password for login.
After login, you get an option of Citizen Apps.
Click on the link of Citizen Apps.
Now, select option of download this Bhamashah card.
A link to download the PDF Bhamashah card will show.
Fill the Bhamashah card download form and enter your card information.
After submitting the information, your Bhamashah card will be searched.
Now, you can download your E Bhamashah card online.
Bhamashah Card Contact Information
If you have been facing problems related to the Rajasthan E Bhamashah Card, then you can contact them through the given toll free number. The toll free number is 18001806127.
Quick Links