RRS Portal – In this article, I am going to tell you about ICDS WCD RRS Portal, its benefits, login procedure, etc, so let's start the article.
So the abbreviation of ICDS is Integrated Child Development Service Scheme and it is made to manage the services provided to Anganwadi, E sadhana, and Poshan Abhiyan. They have also created their own website called icds-wcd.nic.in to reach more and more people. Now after knowing about the scheme, let's get into its login details and other information, please just read the rest of the article.
icds-wcd.nic.in 2022 – ICDS Details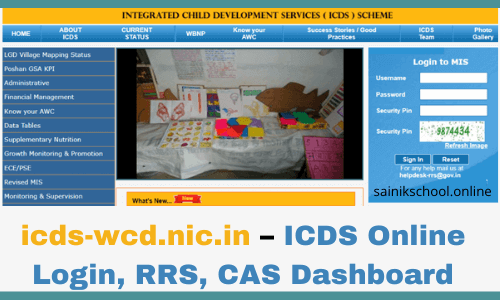 Following are some details that you should know before login on to the portal.
Name of Portal
ICDS WCD
Full-Form
Integrated Child Development Service Scheme
Official website
https://icds-wcd.nic.in/
Authority
Ministry of Women & Child Development, India
Services
Supplementary Nutrition
Pre-school non-formal education
Nutrition & health education
Immunization
Health check-up and
Referral services
icds wcd.nic.in – wcd icds online
What is WCD in ICDS?
Women and Child Development (WCD) is a scheme initiated by the government of India, ICDS is also a part of it. It provides various benefits for the development of women and children in India by giving services to Anganwadi centers and AWMs under this scheme.
WCD ICDS Benefits
There are some benefits of WCD ICDS which are listed below, just check them out.
| | | |
| --- | --- | --- |
| ICDS WCD Beneficiraries | Cost Norms / Beneficiary per day | Revised cost Norms per beneficiary per day (as per phased roll-out) |
| Children (6 months to 72 months) | Rs. 4.00 | Rs. 6.00 |
| Severely malnourished children (6 months- 72 months) | Rs. 6.00 | Rs. 9.00 |
| Pregnant women and lactating mothers | Rs. 5.00 | Rs. 7.00 |
RRS ICDS – RRS Portal MPR/ASR Report
What is RRS in ICDS?
Rapid Reporting System also known as ICDS RRS is a portal that is created by the Government of India to make a new method of MPR or Monthly Progress Reports. RRS Portal provides the revised ICDS MIS portal or Management Information System, MPR, and ASR that are generated. Now after knowing about RRS Portal, there are some benefits of it, just go ahead.
What are the Benefits of WCD ICDS RRS Reporting
Now the information is collected and processed on a regular basis.
A separate entry module would be provided for you to enter the portal.
You can check the Anganwadi Monthly Progress report online.
Easy ways for Data updation, query resolution, and report generation in the portal.
ICDS MPR Data Entry using RRS
If you want to update the MPR Data entry in the RRS portal of ICDS, then just follow the below steps carefully.
How to update MPR Data entry in RRS portal of ICDS?
First, go to your internet browser and visit the WCD ICDS portal website icds-wcd.nic.in/icds.
Then on their login page, use your supervisor ID to log in on to it.
Now choose AWC or Anganwadi Center there.
Enter the correct month for which you want the MPR or Monthly Progress Report.
After that, you have to enter the details for the MPR entry.
Click on the Next button.
Lastly, submit your AWC level Monthly Progress report (MPR) to the CDPO of your nearby center.
ICDS CAS Dashboard
ICDS CAS Dashboard is software that helps in improving the services and efficiency of Anganwadi Workers. It is for Poshan Abhiyan, the software is installed on Anganwadi Workers phones, all the Anganwadi centers have been provided with this facility to enhance their services.
ICDS CAS Benefits
There are quite a good number of benefits that you should definitely know before login into the ICDS CAS Dashboard.
There are various job-related tools present in the CAS dashboard.
You can easily find the report with the help of the CAS dashboard.
Registration of names of people is allowed for AWS services.
They have improved their services through the ICDS CAS dashboard.
ICDS CAS facilities
Facilities of ICDS CAS are listed below, just check them out.
Aanganwadi's and Lady Supervisors send data that can be viewed for checking.
The services are evaluated to identify and resolve issues. The functions of the ICDS program can be managed.
ICDS-CAS Dashboard Login
If you want to log in to ICDS-CAS Dashboard, then just follow the below-given steps carefully.
How to login to the ICDS CAS dashboard at icds wcd.nic.in?
In the step, visit the official website of ICDS-DAS Dashboard: http://www.icds-cas.gov.in/a/icds-cas.
Then go to their login form and fill it up.
Now, type your username and password in the given space.
After that, click on the Reports option there.
Furthermore, go to View All option.
Lastly, open the Dashboard ICDS-CAS by clicking on it.
ICDS Important Terms and Full forms
AWC – Anganwadi Centre
AWW – Anganwadi Worker
BHD – Block Helpdesk
CDPO – Child Development Project Officer
DHD – District Helpdesk
DPO – District Programme Officer
ICDS – Integrated Child Development Services
ICDS-CAS – Integrated Child Development Services-Common Application Software
ICT – Information and Communication Technology
ICT-RTM – Information and Communication Technology enabled Real Time Monitoring
LS – Lady Supervisor
MWCD – Ministry of Women and Child Development
PIN – Personal Identification Number
POSHAN – PM's Overarching Scheme for Holistic Nourishment
SDA – Software Development Agency
RTM – Real Time Monitoring
URL – Uniform Resource Locator
Also Check-